Pulse Double Bass 8-Piece Drum Set
If you're looking for a drum kit that's got more than enough to get you started, then it's recommended that you look into this nice piece of equipment. The kit has two 20" x 16" bass drums, 10" x 9", 12" by 10", and 13" x 11" toms. Along with that is the 5-1/2" x 14" steel snare, and two floor toms, one being 16" x 16", and the other 16" by 18". The hardware it comes with are two chain-drive pedals, two boom cymbal stands, a straight cymbal stand, a snare stand, and a hi-hat stand.
The kit is definitely for everybody, as it's affordable, and can be a great starter kit for beginners. In addition to this kit, Pulse offers many great kits to choose from, and should definitely be looked into for aspiring drummers.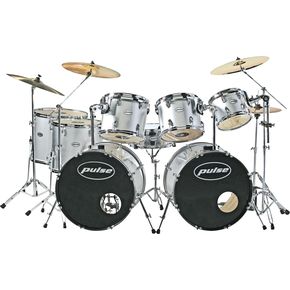 By Cjanz